Less of copy-pasting, more of sense-making
The first and second waves of Agile have been focusing on establishing and standardizing frameworks, like Scrum and Kanban. Alongside with that is the emphasis on liberating decision-making towards self-organizing and self-improving teams.
However, just like pollens of the dandelions flower, the wind has been largely missing, which is to enable the pollens to fly towards one direction. The third wave needs to focus more on that necessary wind. This wind is to support the development of learning organizations, which are composed of Homo sapiens instead of Homo economicus.
Therefore, levelling up reflection and continuous improvement becomes crucial. Going beyond retros, team health checks or alike, a tool to enable deeper conversations is needed for double-loop learning, connecting all levels and components of business agility.
In this talk, I will present the reasoning behind "Less of Copy-Pasting, More of Sense-Making". Then, I will introduce the CMYK-Spectrum as a visualization tool to enable a holistic approach for business agility/sustainability. It is built upon the Cynefin Framework, in combination of Clean Language/Systemic Modelling and the Kanban Maturity Model. You will learn an alternative way to foster business agility. Furthermore, you might want to make your own wind by borrowing elements presented.
Learning objectives:

MAKE SENSE of the "Teller" as well as the "Tellerrand"

CONTEXTUALIZE both tangible and intangible deliverables

CREATE conditions for more curiosity, less contempt within Complex Adaptive Systems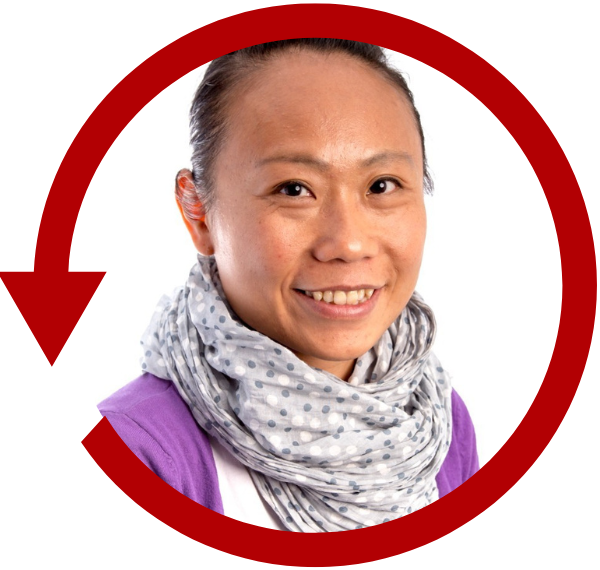 Before entering the business world, I was active in the academia as a research assistant. My research focus was on sustainability from an environmental-ethical point of view. Prior to my doctoral studies, I completed a B.A. in Economics and a M.A. in Global Studies.
I entered the business world in 2016 as a Language Specialist, and transitioned to the Scrum Master and later the Agile Coach role in 2020. Besides coaching & consulting, I offer trainings and workshops on the topic of leadership, reflective conversations (based on Clean Language) and Flow Management (System Design).
Sichern Sie sich jetzt Ihr Ticket!
Wir freuen uns, Sie auf der Agile Austria Conference 2023 begrüßen zu dürfen.